This article will show you how to connect to Walmart.
IMPORTANT!
In order to sell on the Walmart marketplace, you need to go through a multi-step approval process. We can help accelerate your application. Please notify us if you would like to apply.
After you've completed the application process, Walmart will post a final check list in your Walmart Seller Center account. As part of your Solid Commerce onboarding, we will help you complete all of the steps necessary to advance out of Walmart's test environment.
What we'll cover:
Before You Connect To Walmart
Before connecting to Walmart, you need to create a Warehouse (or Vendor Inventory List), create a Market List, and create a Walmart Pricing Rule.
Connecting to Walmart
IMPORTANT!
If you cannot log into seller.walmart.com or do not have a Secret Key in your Seller Center account, you haven't completed all of the steps in Walmart's application and approval process.
Please contact us. We can help identify the next step in Walmart's process.
1) Log in to your Solid Commerce account.
2) Go to the Marketplaces menu -> Marketplaces Setup. Click on the Walmart tab.
3) Review the integration fee, monthly commission, and terms and conditions. Check the I agree to Solid Commerce terms box. Click the ADD CHANNEL button.
During the onboarding process, you will receive assistance and guidance from one of our Walmart experts. If you have any questions, we're always here to help.
4) In a new tab or window, log into Walmart Seller Center.
5) Click on the gear icon to open the General Settings menu.
6) Under the API section, click on the Consumer IDs & Secret Keys link.
7) On the API page, copy the Consumer ID and paste it on your Solid Commerce setup page.
8) Back in the Walmart window, copy your Secret Key.
If you haven't connected Walmart to any other systems, a Secret Key should be waiting for you to copy.
If you have already connected Walmart to another system, you can use the same Secret Key to connect your Solid Commerce account.

Walmart hides the current Secret Key. If you haven't saved it, you will need to click the Regenerate Key button to create a new Secret Key. That will disconnect any other systems from Walmart.
9) Paste the Secret Key on your Solid Commerce setup page.

10) Click the CONNECT button.
Importing Live Listings
Before importing your live listings, we recommend getting familiar with the type of data that imports.
If you're ready to import:
1) Toggle the Import Items from Walmart switch on.
2) Select the correct import settings:
Inventory List
Market List
Pricing Rule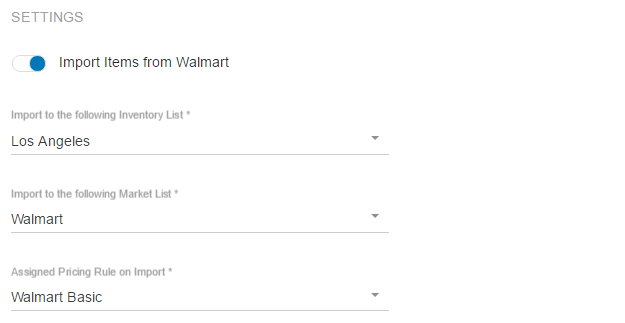 3) Select Start NOT Automated from the Default automation status drop-down menu.
IMPORTANT!
When we submit inventory updates to Walmart, they require that we send the Fulfillment Lag Time. However, Walmart doesn't make the Fulfillment Lag Time available when importing listings.
That means that you will need to upload the Fulfillment Lag Time into Solid Commerce. Setting the Default automation status to Start NOT Automated gives you time to perform the upload.
You will also need to enter any other required walmart attr: fields before you use the Update Listings button or relist out of stock items.
To learn how to upload all of these fields, please see Listing to Walmart (Creating New Listings and Adding Yourself to Existing Listings).
Once you have uploaded the Fulfillment Lag Time and any other Walmart details into Solid Commerce, you are ready to turn the automation on. To do so go to your Walmart Market List, select all of your listings, and click the Start Automation button.

4) Click the SAVE button.
Related Articles